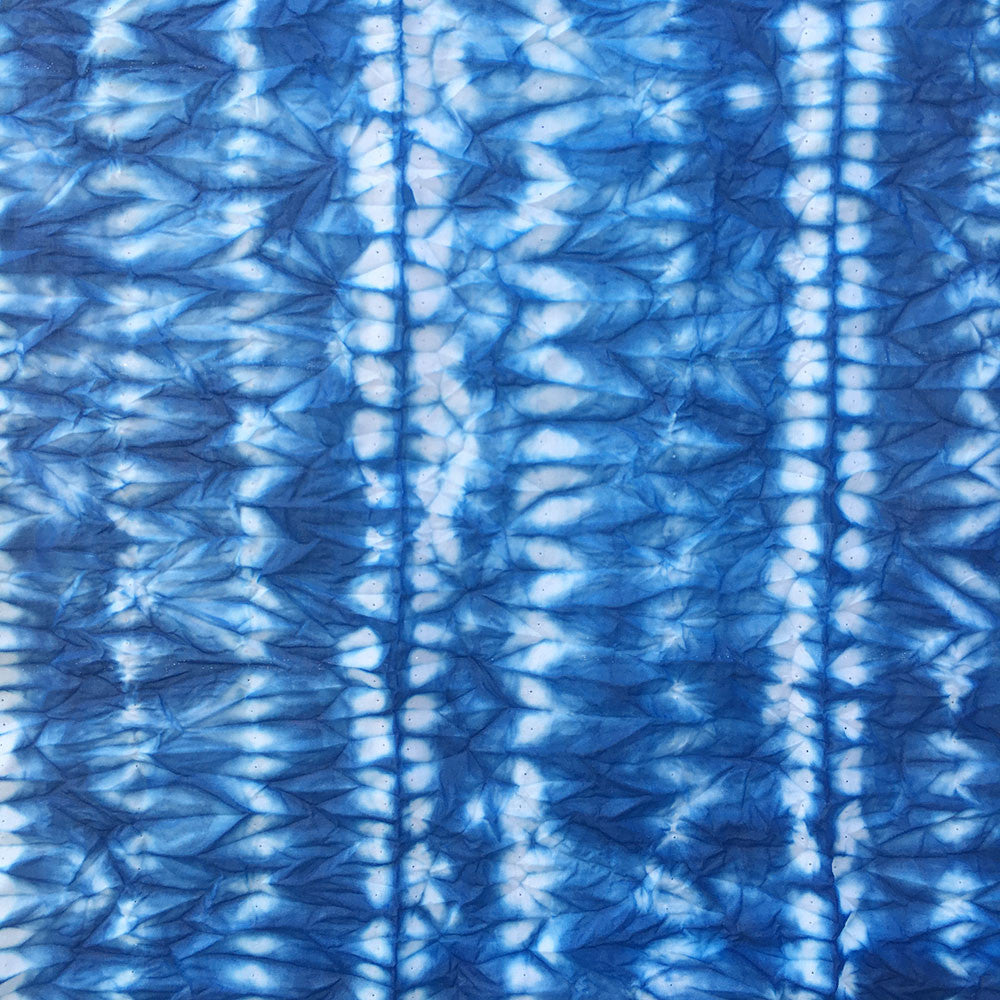 Stitch-Resist Shibori Workshop
Interested in attending but no sessions available that fit your schedule? Please fill out

 

this form

 

and we will notify you when new sessions are added!
Please note: All class registrations are final; please view our Cancellation Policy and Covid-19 Policy for more information. By registering for this workshop, you are agreeing to abide by these policies. Thank you for supporting our small business!  
WORKSHOP DESCRIPTION


Learn a new method of shibori dyeing! In this workshop led by embroidery maven Jessica Marquez, we'll explore stitch-resist shibori dyeing techniques as you create a custom-dyed cotton throw pillow cover.
Shibori is a Japanese dyeing technique that typically involves folding, twisting or bunching cloth and binding it, then dyeing it in indigo. In stitch-resist shibori, the patterning is created by lines of hand stitching made with needle and thread -- the stitches themselves resist the dye, creating beautiful patterns and color variations. 
In this workshop, you'll learn stitching methods to create amazing shibori results. Your instructor will lead you through several different stitching techniques as you plan and sew your own unique stitched pattern. Once your stitching is complete, you'll dye your piece in indigo dye, then remove the stitches to reveal your one-of-a-kind results.
Shibori dyeing is truly an amazing craft, as every piece you dye is a little bit of a mystery. We promise you'll love the process of stitching fabric, dyeing it, then removing your stitches to reveal the organic results. Join us for an amazing afternoon of shibori magic!
Class fee includes all necessary materials (needle, thread, dye) as well as a 14" cotton pillow cover and four hours of instruction. 
Beginners welcome -- no previous experience necessary!
Class Details
Date & Time: select date above
Class Length: 4 hours
Location: Brooklyn Craft Company's NEW LOCATION, 165 Greenpoint Avenue (here's where we're located)
Cost: $65 includes materials and tools needed to design and dye a set of tea towels
All class registrations are final; please view our policy for more information.
Meet Your Instructor
Jessica Marquez is the hands and heart behind Miniature Rhino, a line of embroidery related goods named after her young cousin's imaginary friend, Dr. Rhino. She's the author of the book Stitched Gifts (Chronicle Books) and is currently working on her second embroidery book. She teaches classes online and across the US, and creates DIY projects for magazines and blogs such as Mollie Makes and Design*Sponge.