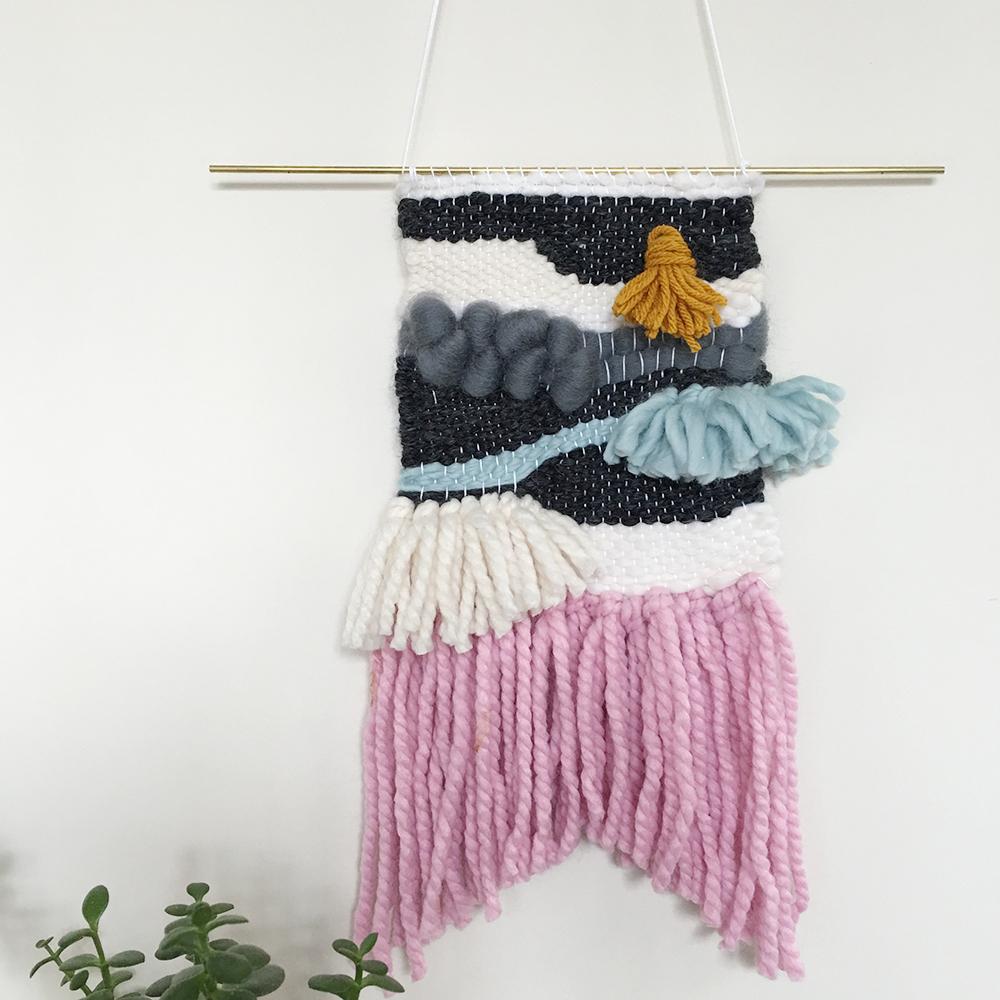 GREENPOINT WORKSHOP: Beginner Loom Weaving
Interested in attending but no sessions available that fit your schedule? Please fill out

 

this form

 

and we will notify you when new sessions are added!
Please note: All class registrations are final; please view our Cancellation Policy and Covid-19 Policy for more information. By registering for this workshop, you are agreeing to abide by these policies. Thank you for supporting our small business! 
Catch weaver fever! Learn tapestry weaving as you design and make your own woven wall hangings in this fun and relaxing workshop. Total beginners welcome! 
In this class you'll learn: 
How to set up the warp thread on your loom

How to do weaving stitches including plain weave, soumak, and rya knots
How to add fringe and tassels
How to incorporate a variety of fiber weights and textures
How to plan and execute your own design
You'll leave with a small weaving (approximately 4-6" wide) and the know-how to create more woven pieces on your own! 
Registration includes the materials necessary to make a small wall hanging, including a small wooden frame loom (yours to keep after the workshop!), warp thread, yarn, and a wooden dowel for hanging. Please note: Weaving is slow-going, so some students may not complete the project during class. However, you will leave with all the skills needed to finish up on your own!
Note: If you would like to bring a little of your own yarn, especially if you have colors you know you want to use in your weaving, go for it! Worsted and bulky yarns work best for this project. We will provide enough yarn for everyone, but if you have anything special you want to incorporate, feel free to bring it along! 
Class Details
Date & Time: select date above
Location: Brooklyn Craft Company, 165 Greenpoint Avenue (here's where we're located)

Cost: $65 includes everything you need to complete a small woven wall hanging including a chipboard loom, warp thread, yarn and a wooden dowel for hanging.
All class registrations are final; please view our policy for more information.
Meet Your Instructor
Jessie Wayburn learned to crochet from her great-grandmother, grandmother, and aunt 31 years ago, she learned to knit from her mother 19 years ago, and she's been making messes her whole life. She enjoys felting for its therapeutic aspects (stabby-stabby) as well as its artistic merits (fluffy-fluffy). She is a multifaceted artist with a background in theater, comedy, and music. You would think she would have used more of her stash during lockdown, but you'd think wrong. She has a dog named Susie Meyerson, after the manager character on Marvelous Mrs. Maisel, played by Alex Borstein. Susie is definitely Jessie's manager.