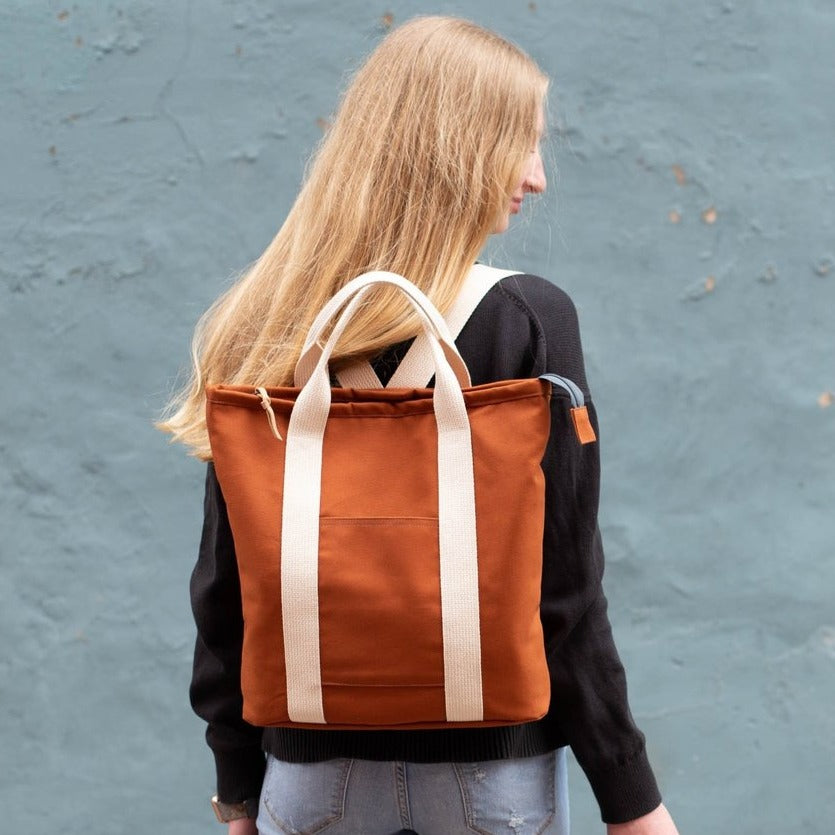 GREENPOINT WORKSHOP: Sew a Buckthorn Backpack
Interested in attending but no sessions available that fit your schedule? Please fill out

 

this form

 

and we will notify you when new sessions are added!
Please note: All class registrations are final; please view our Cancellation Policy and Covid-19 Policy for more information. By registering for this workshop, you are agreeing to abide by these policies. Thank you for supporting our small business!    
Skill level requirement: this is NOT a learn to sew class; you must have sewn in the recent past, and be confident operating a sewing machine independently. See below for more info. If you're a total beginner, check out our  Sewing 101 Workshops.
Learn to sew a stylish Buckthorn Backpack!
You'll love this zippered top backpack for everyday use.  It features a front pocket for easy access to smaller items, a divided interior pocket to keep everything inside organized, and a flat base. The backpack has adjustable straps and fits tablets, small laptops, and/or notebooks! 

This workshop will be a hybrid virtual/ in-person format. All of the sewing will take place at our shop-- no worries if you don't have a machine at home or if you can't make it to the live virtual session!  Here's how the schedule will look:
Friday 11/11 at 6:30pm-7:30pm - This will be a virtual info session taking place on Zoom. Your instructor will discuss pattern details and demonstrate how to cut your fabric. Your homework will be to complete all of the fabric cutting/ prep before we meet in person. The Zoom will be recorded, so you'll be able to access the video if you can't attend live or if you need to reference it while you're cutting fabric!
Sunday 11/13 at 11am-6pm - This part will take place at our Greenpoint shop! During this time we will cover all of the bag construction. All fabric must be cut and ready to sew upon arrival. 
In this hybrid virtual/ in-person workshop, you'll learn how to:
Follow a commercial bag pattern
Work with heavyweight fabrics
Create interior and exterior pockets
Install bag hardware including triangle rings, strap sliders, and swivel hooks
Make a lined backpack from start to finish
**Please note: we will not be covering how to use fleece or foam with lighter fabrics for this workshop. We will be making the waxed canvas version of this bag only** 
Fabric and other supplies will be available for purchase in our retail shop & on our website at a 10% discount to students.
Required Materials:
**Save 10% on supplies purchased from Brooklyn Craft Company with code BUCKTHORN10** Please feel free to email hello@brooklyncraftcompany.com with any questions about materials! 
Buckthorn Backpack pattern - purchase

 

here!
3/4 yard waxed canvas

 

for the exterior fabric. **Please note: we will not be covering how to use fleece or foam foam with lighter fabrics for this workshop.** You can use non-waxed canvas, but may need to add interfacing for extra structure!
Cutting mat/

 

gridded ruler/

 

rotary cutter

 

(Fabric pieces will be cut from pattern pieces as well as rectangular measurements; using a rotary cutter is strongly recommended for quick cutting but sharp fabric scissors can also be used if necessary-- requires measuring and drawing rectangles onto fabric)
All other tools (wonder clips, denim machine needles, iron, etc) required for the sewing portion of this project will be available for use at our shop
Skill requirements: This is a confident beginner/ intermediate sewing workshop; you do not need to have any experience sewing bags, but you must have basic machine-sewing skills and be comfortable and confident operating a sewing machine. Our Sewing 101 class (or equivalent) is a minimum prerequisite for this class. (You can register for one of our upcoming Sewing 101 workshops here.) If you're unsure whether you have enough sewing experience for this class, please send a brief email summarizing your sewing experience to hello@brooklyncraftcompany.com.
Workshop Details
Date & Time: 11/11 at 6:30pm Zoom session & 11/13 at 11am-6pm in-person workshop
Location: Virtual info session via Zoom + In-person at Brooklyn Craft Company, 165 Greenpoint Avenue (here's where we're located)
Cost: $145.00 includes 7+ hours of instruction, and use of our BERNINA sewing machines. Does NOT include pattern, fabric or notions-- All required materials will be available for purchase at a 10% discount. 
All class registrations are final; please view our policy for more information.
MEET YOUR INSTRUCTOR
Diana Rodgers is a teaching artist living in Greenpoint, Brooklyn.  Since earning a BFA in apparel design from FIT, she has enjoyed a varied creative career including fashion designer, entrepreneur, and teacher.  The 'common thread' among all these endeavors is sewing.  Diana currently teaches weekly sewing classes to children and adults, covering everything from clothing to accessories to quilts.   When not teaching, she creates sewn illustrations (or appliqué), inspired by all the things that make her feel nostalgic.  You can check 'em out on Instagram @wonderthreads
Special Thanks
Thank you to BERNINA for furnishing Brooklyn Craft Company's sewing machines. Visit BERNINA online at WeAllSew.com.