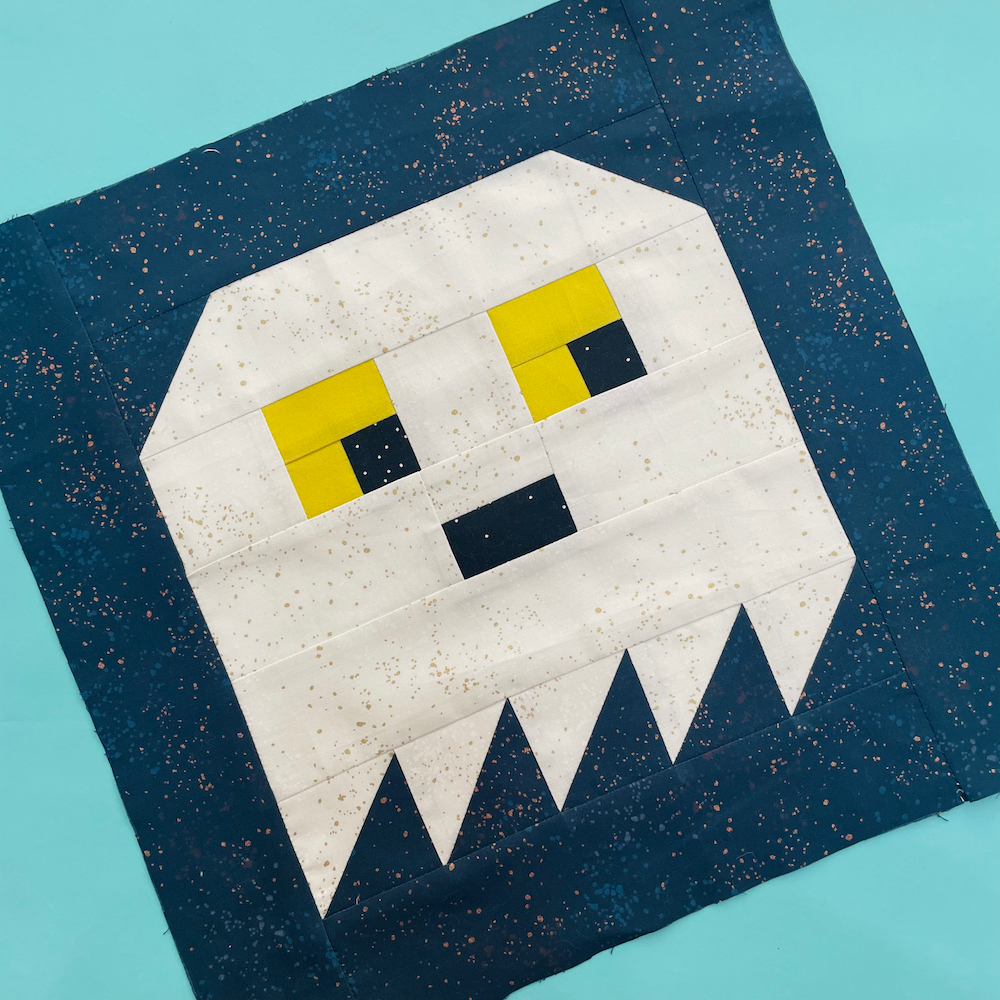 Quilt Block of the Month - Ghost!
Please note: All class registrations are final; please view our Cancellation Policy and Covid-19 Policy for more information. By registering for this workshop, you are agreeing to abide by these policies. Thank you for supporting our small business!  
Whether you're a patchwork newbie, or you're an experienced quilter looking to expand your skillset, this is the class series for you! 
Each month, we will demonstrate how to create a unique quilt block from start to finish. We'll cover a variety of patchwork styles, from traditional to modern, and we'll even throw in some special seasonal projects, too! 
In this three-hour workshop, instructor Diana Rogers will take students on a tour of patchwork basics -- the process of sewing small pieces of fabric together to make a larger composition. For October's session, we'll be using the Ghost Tote Bag pattern from Sew Fun to create a super fun, Halloween-themed block. Students can go on to complete the tote on their own, or use the block for a quilt, pillow, wall hanging... you name it!

In this class you'll learn:
How to design and assemble a ghost quilt block
How to accurately cut fabric with a rotary cutter and cutting mat
How to assemble your fabric pieces (you must have machine sewing experience; see below)
How to iron in quilting
The specific cutting and assembly methods used in a simple quilt block
We will provide cutting mats, rotary cutters and rulers to share.
Each student will have access to their own sewing machine courtesy of BERNINA of America
Students will work toward completing one quilt block
Skill Requirements
Please note this is not a learn-to-sew class. Students must have basic machine sewing knowledge and be comfortable using a sewing machine. If you do not know how to sew, please take one of our Sewing 101 classes as a prerequisite to this class.
Fabric
Fabric will be available to purchase during class at a 10% discount to workshop attendees.
Class Details
Date & Time: select above
Location: Brooklyn Craft Company (here's where we're located)
Cost: $85.00; includes pattern and instruction. Fabric and thread are not included. 
All class registrations are final; please view our policy for more information.
Meet Your Instructor
Diana Rodgers is a teaching artist living in Greenpoint, Brooklyn.  Since earning a BFA in apparel design from FIT, she has enjoyed a varied creative career including fashion designer, entrepreneur, and teacher.  The 'common thread' among all these endeavors is sewing.  Diana currently teaches weekly sewing classes to children and adults, covering everything from clothing to accessories to quilts.   When not teaching, she creates sewn illustrations (or applique), inspired by all the things that make her feel nostalgic.  You can check 'em out on Instagram @wonderthreads
Special Thanks...
Thank you to BERNINA for furnishing Brooklyn Craft Company's sewing machines. Visit BERNINA online at WeAllSew.com.