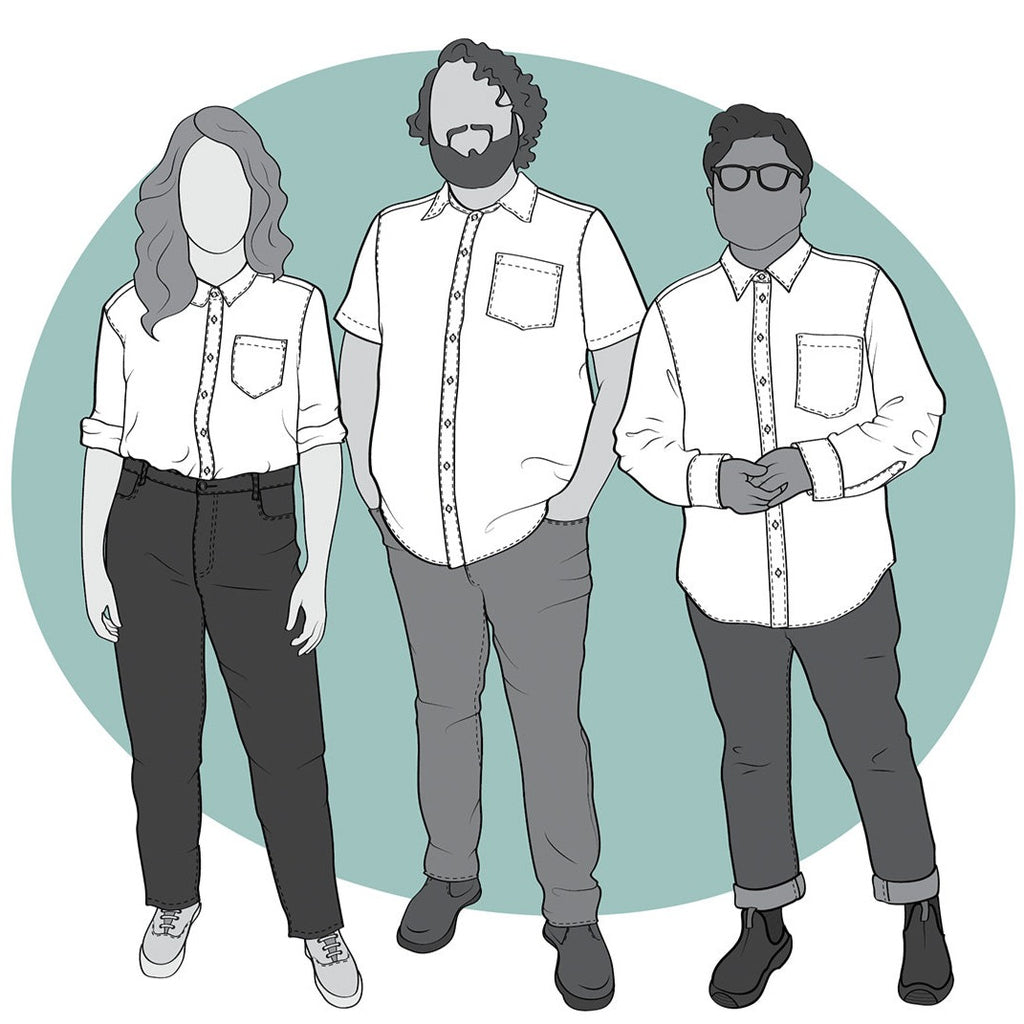 GREENPOINT WORKSHOP: 5-Week Sewing Course - Button Up Shirt
Interested in attending but no sessions available that fit your schedule? Please fill out

 

this form

 

and we will notify you when new sessions are added!
Please note: All class registrations are final; please view our Cancellation Policy and Covid-19 Policy for more information. By registering for this workshop, you are agreeing to abide by these policies. Thank you for supporting our small business!  
Skill level requirement: this is NOT a learn to sew class; you must have sewn in the recent past, and be confident operating a sewing machine independently. See below for more info. If you're a total beginner, check out our  Sewing 101 Workshops.
Ready to take your garment sewing skills to the next level? Join us to to make a Helen's Closet Cameron Button Up Shirt in this 5-week course!
The Cameron Button Up (available in sizes 0-34!) has all the classic features you look for in a great button up shirt. Collar and collar stand, front button placket, and optional chest pocket. Cameron is dartless and has a boxy fit from the chest to the hip. View A features long sleeves with sleeve plackets and cuffs. View B features short sleeves. Try Cameron in flannel for the ultimate cozy layer or make it in linen for a modern look. Play with prints or solids and customize the length, pockets, and collar shape to suit your personal preferences. Cameron will surely be your go-to button up shirt for yourself and loved ones!

Under the guidance of teacher Diana Rodgers, you'll learn the basics of shirt construction as you master several garment-sewing essentials. We'll cover:
Measuring the body accurately to create a perfect fit
Working from a commercial pattern, including size selection, deciphering instructions, cutting from paper pattern pieces, and more
Understanding garment sewing basics such as proper fabric prep, pinning, cutting, ironing and troubleshooting
Becoming familiar with sewing jargon commonly found in commercial patterns
How to construct a collar, cuffs, placketed long sleeves or or short sleeves, patch pockets, and buttonhole.
Skill Requirements
This is an intermediate level workshop. Advanced beginner sewing experience is required; you must be comfortable using a sewing machine and have sewn garments from a commercial sewing pattern in the recent past. If you're unsure if you have the right experience for this workshop, feel free to email hello@brooklyncraftcompany.com for more info!
Materials Required:
(Not included in registration fee. A 10% discount will apply to class materials purchased at our shop. Use code CAMERON10 if shopping our online store, or feel free to swing by our shop anytime ahead of the workshop! Materials will be available for purchase the day of class, as well.)
1.4 - 4 yards (Depending on size, pattern version, and fabric width-- see sizing details here!) light to medium weight woven fabrics with no stretch. Linen, cotton (seersucker, shirting, chambray, quilting cotton, flannel)
3/8" - 1/2" wide buttons, 10 buttons for View A and 8 buttons for View B
This is a five-part workshop taking place on the dates below:
Tuesday 9/20 at 6:30-9:30pm
Tuesday 9/27 at 6:30-9:30pm
Tuesday 10/4 at 6:30-9:30pm
Tuesday 10/11 at 6:30-9:30pm
Tuesday 10/18 at 6:30-9:30pm
Class Details
Date & Time: Five evenings, please choose start date above!
Location: Brooklyn Craft Company, 165 Greenpoint Avenue (here's where we're located). 
Cost: $325 includes 15 hours of instruction, a printed copy of the Cameron pattern, all necessary tools, and use of our BERNINA sewing machines; does not include fabric or notions, which will be available for purchase during class with a 10% student discount.
All class registrations are final; please view our policy for more information.
Meet Your Instructor 
Diana Rodgers is a teaching artist living in Greenpoint, Brooklyn.  Since earning a BFA in apparel design from FIT, she has enjoyed a varied creative career including fashion designer, entrepreneur, and teacher.  The 'common thread' among all these endeavors is sewing.  Diana currently teaches weekly sewing classes to children and adults, covering everything from clothing to accessories to quilts.   When not teaching, she creates sewn illustrations (or appliqué), inspired by all the things that make her feel nostalgic.  You can check 'em out on Instagram @wonderthreads
Special Thanks
Thank you to BERNINA for furnishing Brooklyn Craft Company's sewing machines. Visit BERNINA online at WeAllSew.com.