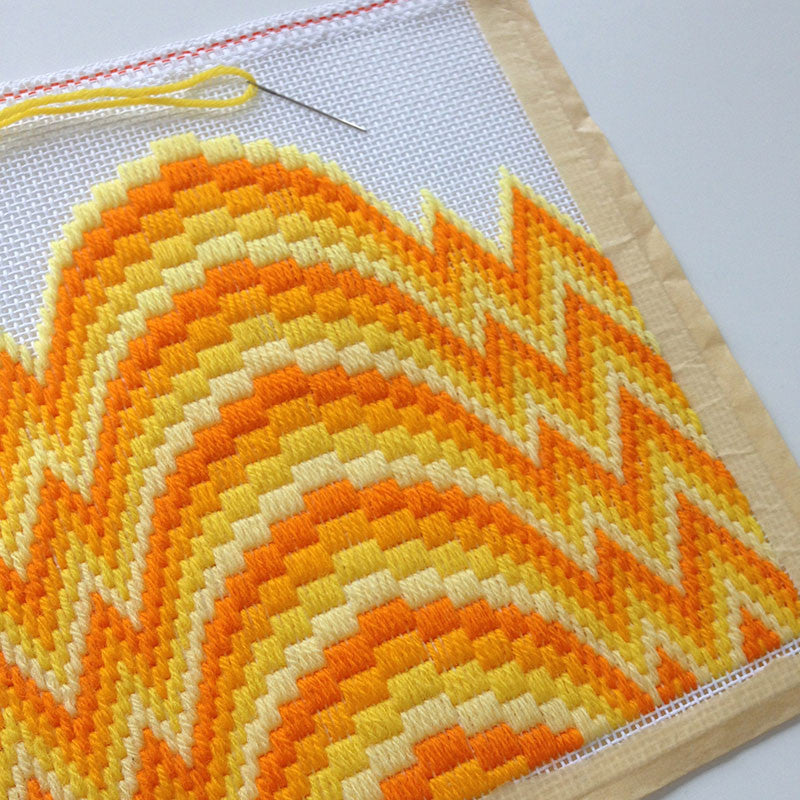 Interested in attending but no sessions available that fit your schedule? Please fill out

 

this form

 

and we will notify you when new sessions are added!
Please note: All class registrations are final; please view our Cancellation Policy and Covid-19 Policy for more information. By registering for this workshop, you are agreeing to abide by these policies. Thank you for supporting our small business!  
Bargello is a sixties- and seventies-era style of needlepoint marked by repeating patterns, zig-zaggy designs, and bold color choices. While needlepoint has a reputation for being time-consuming and slow-going, bargello is fast and easy!
In this workshop, you'll learn the basics of bargello as you make a small piece (approximately 8" square) using vintage needlepoint patterns. Class will include:
Learning to read a bargello pattern.
How to choose the correct needlepoint canvas, yarn, and needle.
How to work the bargello stitch.
How to stitch in autopilot once you establish your design.
By the end of class you'll have a firm grasp of the basics and will be well on your way to completing your piece. You won't believe how easy, automatic, and meditative this stitchery is!
Class fee includes all necessary materials to complete an 8" square piece: needlepoint canvas, DMC tapestry wool, needle, and pattern. You can frame your finished piece, sew it into a pillow or bag, or enjoy it in any way you like!
Class Details
Date: select date above
Time: select time above
Location: Brooklyn Craft Company's NEW LOCATION, 165 Greenpoint Avenue (here's where we're located)
Cost: $55 includes all necessary materials 
All class registrations are final; please view our policy for more information.
Meet Your Instructor
Brooklyn Craft Company founder Brett Bara is teaching this class! Brett is a fiber arts maven, as a lifelong knitter, crocheter, sewer, fabric lover, and pattern fiend. She loves bargello because it allows her to combine her loves of vintage patterns, stitchery, color, texture, pattern and home decor into one. Plus, it's relaxing and addictive!