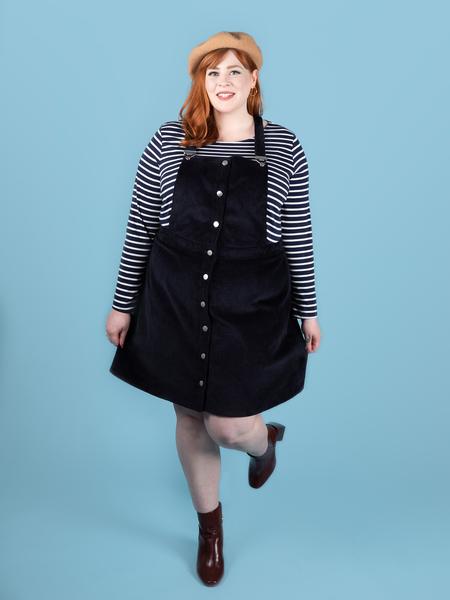 VIRTUAL WORKSHOP: Sew a Bobbi Pinafore or Skirt
Interested in attending but no sessions available that fit your schedule? Please fill out

 

this form

 

and we will notify you when new sessions are added!
WORKSHOP DESCRIPTION
Join us to make a Tilly and the Buttons Bobbi, a button-down skirt or pinafore that's both classic and bang on trend. Endlessly versatile, it looks so different depending on the fabric you pick and the details you add. Go utility chic with a choice of three pockets, optional flaps and belt loops – or leave them off for an understated look. Bobbi will be a go-to garment in your me-made wardrobe.
In this three-evening workshop, you'll learn to sew from a printed PDF pattern, AND you'll sew a super-cute skirt or pinafore, custom made to fit your body. You'll leave this class with the skills and confidence to tackle more garment sewing on your own. 
You'll learn how to:
Sew from a printed commercial pattern (or print and assemble a PDF pattern at home)
Measure the body accurately to create a perfect fit
Work from a commercial pattern, including size selection, deciphering instructions, cutting from paper pattern pieces, and more
Understand garment sewing basics such as proper fabric prep, pinning, cutting, ironing and troubleshooting
Sew a fitted waistband
Sew princess seams
Create dungaree straps
Practice sewing buttonholes
Sew patch pockets
Work with heavier fabrics
This is a three-evening workshop being held on the following dates:
Thursday 11/19 at 6:30pm-7:30pm - The instructor will demo how to properly print and assemble the PDF pattern, plus how to cut the fabric. Students are to complete these steps at their own pace between the first and second session.
Saturday 11/21 at 4pm-6:30pm - Students will sew along with the instructor during this session. There may be sewing homework to complete before the next session.
Sunday 11/22 at 4pm-6:30pm - Students will sew along with the instructor during this session. Some steps will be finished after class at your own pace-- you will receive a recording of the workshop to reference as needed.
**There will be homework to complete between sessions!**
Skill Requirements
Suitable for confident beginners. Please note this is not a learn-to-sew class. Students must have basic machine sewing knowledge and be comfortable using a sewing machine. 
Materials + Tools Required
**Save 10% on supplies purchased from Brooklyn Craft Company with code BOBBI1119**
1.5 - 2 yards (depending on size, version and fabric width-- see size charts above) medium to heavy weight fabrics that hold their shape like corduroy, denim, or cotton canvas.
5/8 yd iron-on interfacing 
1 spool of all-purpose sewing thread

Straight

 

pins

5/8" buttons with shank: skirt – 6; pinafore – 9 for sizes 1-4, 10 for sizes 5-10, plus 2-3 extra buttons for optional flap pockets

Pinafore version: 2 x 30-35mm (1¼-1½in) wide dungaree buckles + no-sew jeans buttons
For pinafore and/or hip pocket versions: 1/2yd medium weight cotton for pocket lining (quilting cotton works great!)
Buttonhole foot (most likely came with your sewing machine)
Sewing machine -- please make sure your machine is in good working order before registering for this workshop :)

Iron and ironing board or mat
Class Details
Date & Time: Three evenings-- see dates above! Please note: the date you select a the top of the page is the first of three parts for this workshop.
Location: Anywhere! This workshop will be hosted virtually via Zoom! Details will be emailed after you register
Cost: $95 
Max # of students: 8
All class registrations are final; please view our policy for more information.

MEET YOUR INSTRUCTOR
Diana Rodgers is a teaching artist living in Greenpoint, Brooklyn.  Since earning a BFA in apparel design from FIT, she has enjoyed a varied creative career including fashion designer, entrepreneur, and teacher.  The 'common thread' among all these endeavors is sewing.  Diana currently teaches weekly sewing classes to children and adults, covering everything from clothing to accessories to quilts.   When not teaching, she creates sewn illustrations (or appliqué), inspired by all the things that make her feel nostalgic.  You can check 'em out on Instagram @wonderthreads