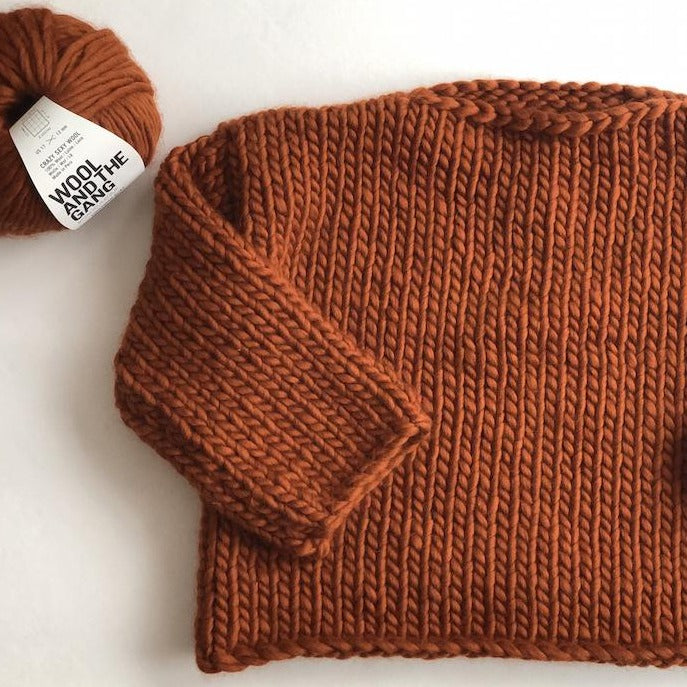 VIRTUAL WORKSHOP: Knit a Chunky Sweater
Interested in attending but no sessions available that fit your schedule? Please fill out

 

this form

 

and we will notify you when new sessions are added!
Learn to knit a sweater! If you're a confident beginner who has mastered knitting basics and are looking to tackle larger projects, this virtual workshop is for you!
You might be intimidated by the thought of making a sweater....don't be! For this workshop, we'll be making a totally non-fussy sweater using chunky yarn-- meaning it will knit up quickly and only basic skills are needed. You've got this! 

In this three-part workshop, we'll work to make your new favorite sweater. You will learn:
Yarn & needle information
How to knit the jersey stitch
How to create a sweater body and sleeves
How to assemble all components
All the skills needed to construct a basic sweater from start to finish
This is three-part virtual workshop taking place on the following dates:
Tuesday 1/5 at 6:30-8:30pm
Tuesday 1/12 at 6:30-7:30pm
Tuesday 1/19 at 6:30-8:30pm 
OR
Wednesday 2/17 at 6:30-8:30pm
Wednesday 2/24 at 6:30-7:30pm (optional check-in session)
Wednesday 3/3 at 6:30-8:30pm 
Materials + Tools Required:
**Save 10% when you purchase supplies on our site or at our shop with code KNITSWEATER10
4 - 7 balls of Crazy Sexy Wool  OR Cascade Magnum OR Magnum Tweed depending on size (see chart above). If we don't have the quantity or color you need, email us (hello@brooklyncraftcompany.com)! We're happy to place a special order for you.
SKILL REQUIREMENTS: You must have basic knitting skills to attend this workshop, including: casting on, the knit stitch, and the purl stitch. If you are a total newbie, attend one of our Knitting 101 workshops first- register here.
Class Details
Date: select start date above (this is a three-part workshop)
Location: This workshop will be hosted virtually via Zoom! Details will be emailed to you before the workshop.
Cost: $75 
All class registrations are final; please view our policy for more information.
Meet Your Instructor
Amelia is the creative director of Studio Faden, a Greenpoint-based design studio. Originally from the west coast, her craft brought her to Brooklyn 10 years ago to work in the fashion industry and teach fiber arts. Check out her work at studiofaden.com.