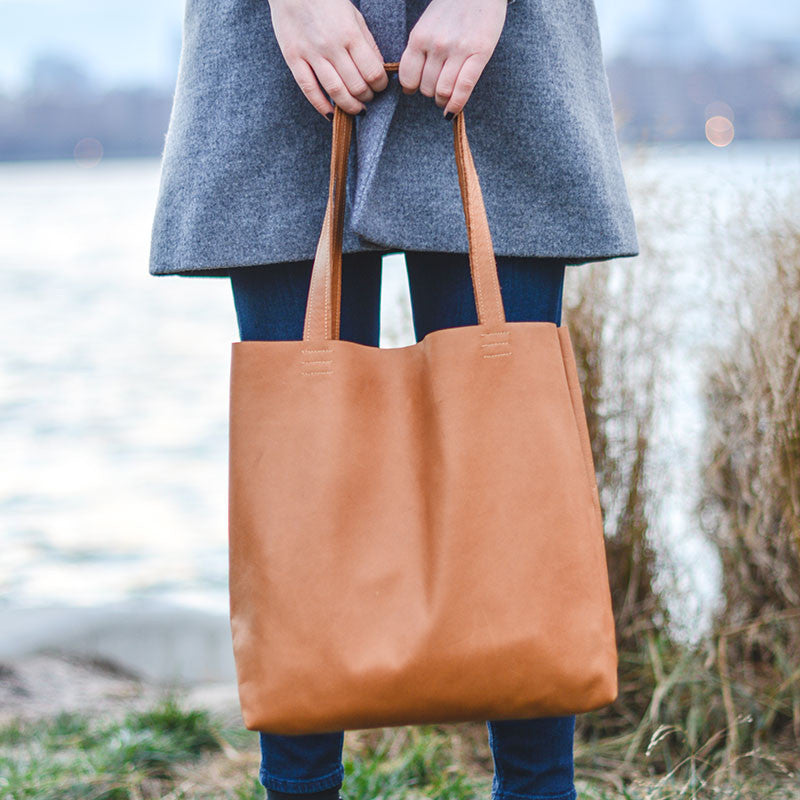 Sew a Leather Tote Workshop
WORKSHOP DESCRIPTION
Note: This listing is for a live, in-person class in our Brooklyn store. To purchase our Sew A Leather Tote KIT, click here! 
Have you ever fallen in love with the perfect understated leather tote, only to reach for the price tag and realize it's reallllly expensive?!
Those shopping moments are the worst, but the good news is, you don't have to live without that killer leather bag--you can totally make it yourself! Working with leather is not as hard as you would think, and this class will teach you just how doable it is to make your very own luxury leather bag.
Under the guidance of teacher Joey Casey, you'll learn the basics of working with leather as you make a gorgeous tote! It's minimalist in style but roomy enough for all your essentials... we promise this will be your new favorite bag. You won't believe that after this three-hour class, you'll have made an enviable bag that looks like it stepped out of the nearest fancy boutique. 
In this class, you'll learn:
Basic understanding of handling and cutting leather
How to sew leather using a home sewing machine
Special techniques for seaming and assembling leather, with attention to how it differs from fabric
All materials and tools will be provided, including high-quality leather and metal hardware.
Skill Requirements
Basic sewing experience is required; YOU MUST BE COMFORTABLE WORKING ON A SEWING MACHINE. Our Sewing 101 class (or equivalent) is a prerequisite for this class. The next session of Sewing 101 is being offered on September 21; register here.
Class Details
Date: select date above
Time: select time above
Location: Brooklyn Craft Company's NEW LOCATION, 165 Greenpoint Avenue (here's where we're located)
Cost: $155 includes high-quality leather, all necessary tools, and use of our BERNINA sewing machines
All class registrations are final; please view our policy for more information.
About the Instructor
Joey Casey is a fashion and textile designer and teacher based in New York City. After studying fashion design at Parsons School of Design, Joey went on to work for many young designer collections. His love of aiding small and up-and-coming designers allows him to apply his skills to many aspects of designing a collection. He has worked in design, production, pattern making, sample making, and most currently tailoring; he frequently teaches textile design and garment construction throughout New York.
Joey is also an avid knitter, working in both hand knitting and machine knitting. He has created pieces for commercial advertisements and art installations and has also worked with fashion brands to develop editorial knits, samples and small production.
His continued enthusiasm for fashion and textiles keeps every day full of exploration, problem solving, and most of all fun!
Special Thanks
Thank you to BERNINA for furnishing Brooklyn Craft Company's sewing machines. Visit BERNINA online at WeAllSew.com.