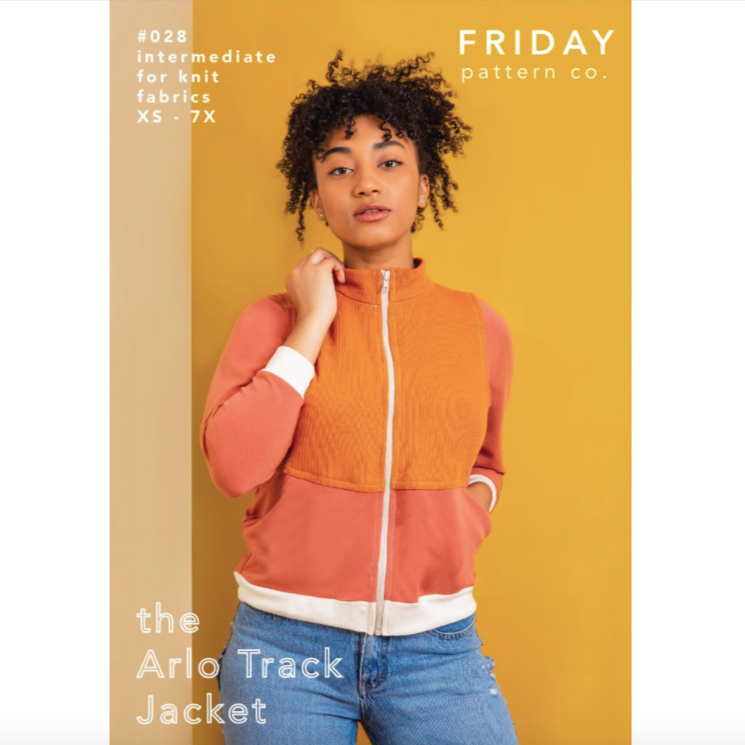 PRODUCT DESCRIPTION
The Arlo Track Jacket is the perfect lightweight layer. It features a sport collar, interesting seamlines, and comfortable front pockets. The Arlo is fitted without being tight and comes with three length options: short 
22"/56cm, medium 24"/61cm, and long 26"/66cm
. It is the type of zip-up you can wear on its own in fall and under a warm coat in winter. This is a unisex pattern and looks great on all gender expressions! This pattern is intermediate but is achievable by the confident beginner.
Notions:
Zipper foot
Marking tool
Separating zipper (22"/56cm for short, 24"/61cm for medium, and 26"/66cm for long)

Fabric requirements: This jacket is designed for knits with at least 20% cross grain stretch. French terry, sweatshirt fleece, ponte, and other sturdy knits are ideal for this pattern. Knits that are really drapey are not suitable for this pattern. See last image for yardage.