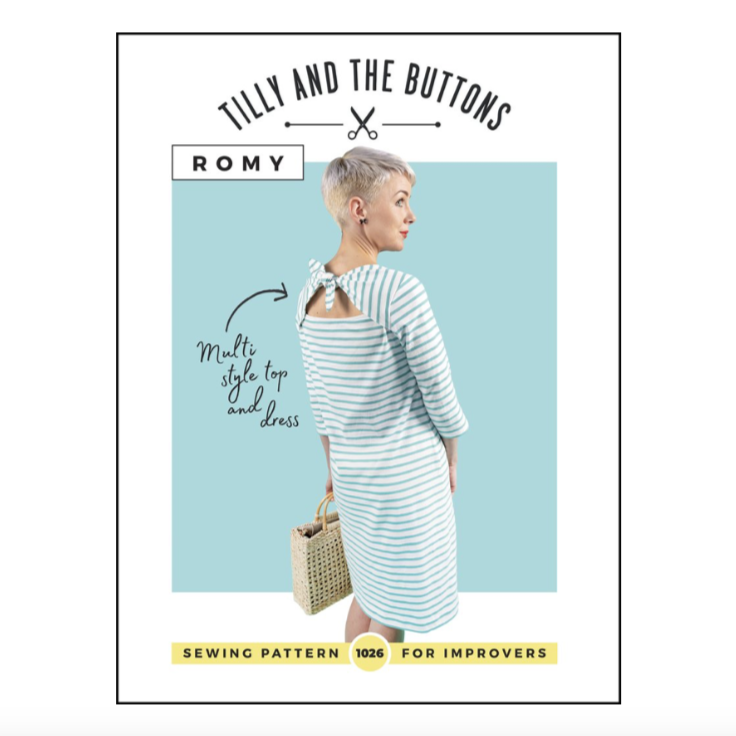 Romy Top and Dress Pattern
PRODUCT DESCRIPTION
Upgrade your casual me-made wardrobe with this stylish (and comfy!) top and dress. The optional back ties or contrast binding add a fun twist to the classic Breton or t shirt dress.
Romy has a modern loose fit and high slash envelope neckline, with choice of cap, three quarter or full length sleeves for year-round style. Designed for knit fabrics, whip it up on either a regular sewing machine or overlocker (serger). Once you've made one, you'll be hooked! 
Romy includes jargon-busting instructions, helpful sewing tips, and colour photos showing you each step – making it easy for you to create gorgeous clothes you can be proud to say you made yourself.
Pattern: 1026

Skill Level: Improvers
Fabric Suggestions: Medium-weight low stretch knit fabrics such as jersey or interlock. You could also use ponte for the long sleeve version. Avoid anything too light-weight, drapey or clingy. If you're making the back ties version, avoid anything too bulky.
Supplies: Matching thread; Ballpoint needle for your sewing machine; For back tie version: 0.5m (5/8yd) of 6-9mm (1/4in–3/8in) clear (swimwear) elastic and sharp all-purpose needle or microtex needle; Optional: Overlocker (serger)
Fabric Requirements: Version A - 2 m (2 1/4 yds) x 150 cm (60 inches) / 3.3 m (3 3/4 yds) x 115 cm (45 inches)

Version B - 1 m (1 1/8 yds) x 150 cm (60 inches) / 1.7 m (1 7/8 yds) x 115 cm (45 inches)
Version C - 1.4 m (1 5/8 yds) x 150 cm (60 inches) / 2.2 m (2 1/2 yds) x 115 cm (45 inches)