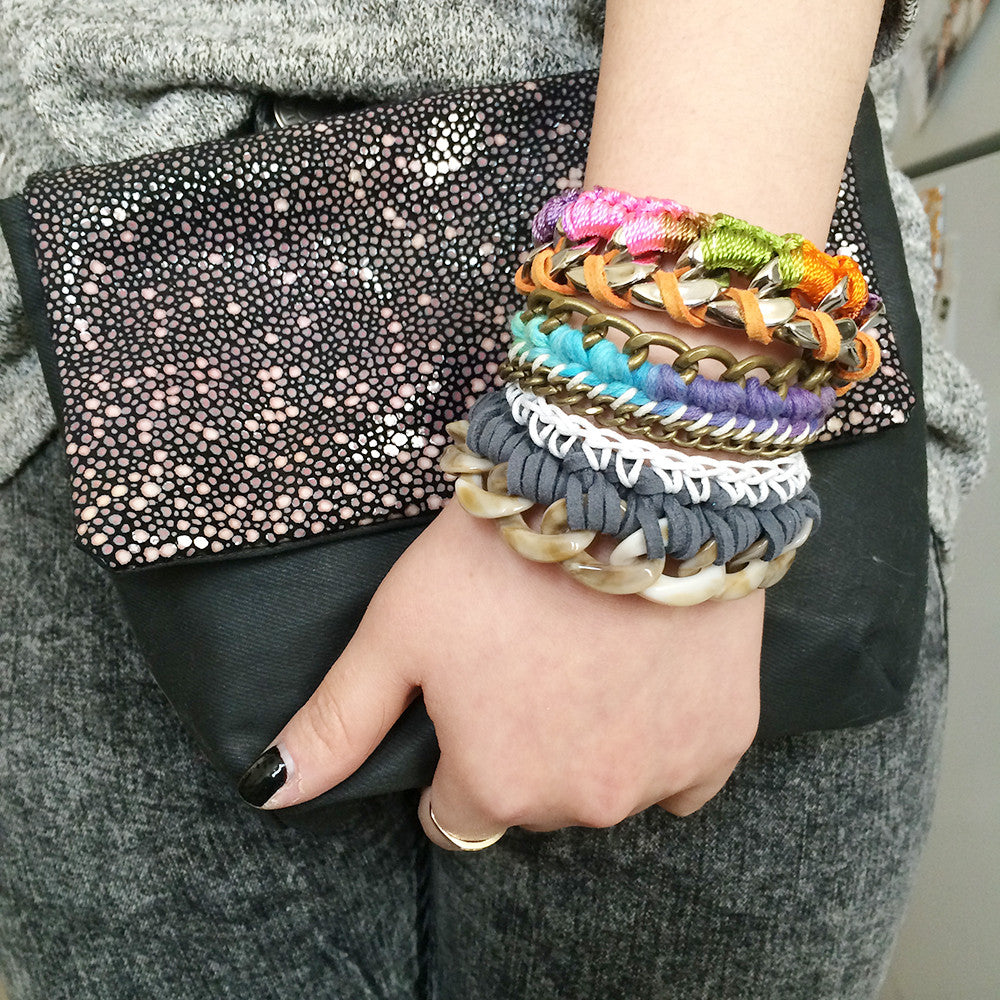 Led by Brooklyn jewelry designer Andrea Bocchio, this class lets YOU be the designer! Andrea will teach her technique for making her amazing mixed-media statement pieces which combine chunky metal chain with simple crochet trimming in colorful cotton yarns, plus beads. You'll learn everything you need to know to create your own designs, and you'll leave class with a chunky necklace or an armful of bracelets. No previous experience in jewelry making or crochet is required. Beginners welcome!
Class fee includes all the necessary materials to make one necklace or up to three bracelets--you choose! These pieces make fantastic gifts... if you can bear to give them away!
DATE: select date above
TIME: select time above (class lasts approximately 2.5 hours)
SKILL LEVEL: Beginner
LOCATION: Brooklyn Craft Company (here's where we're located)
COST: $65 includes materials needed to make one necklace or up to three bracelets
All class registrations are final; please view our policy for more information.
MEET YOUR INSTRUCTOR
Brooklyn-based Peruvian designer Andrea Bocchio merges traditional knitting and crochet with bold, cool accents to create her signature jewelry line.
Bocchio's appreciation of the handmade started at an early age, influenced by her knitter mother and grandmother. Continuing to perfect her craft, she studied at the Maryland Institute College of Art and at Central Saint Martins. After graduating in 2008, she joined the New York fashion industry as a print designer. Looking for an escape from the digital platform, she began making jewelry at night.  The hobby she started with her mother has now expanded to a textile-based collection that includes necklaces and bracelets catering to those with a love for the unique and handcrafted.
She currently resides in Gowanus, Brooklyn with her five-year-old Havanese dog, Butters. You can follow their stories on Tumblr.
Bocchio continues to expand her line, which can be found at selected stores and boutiques across the US, South America, Japan and the Middle East.