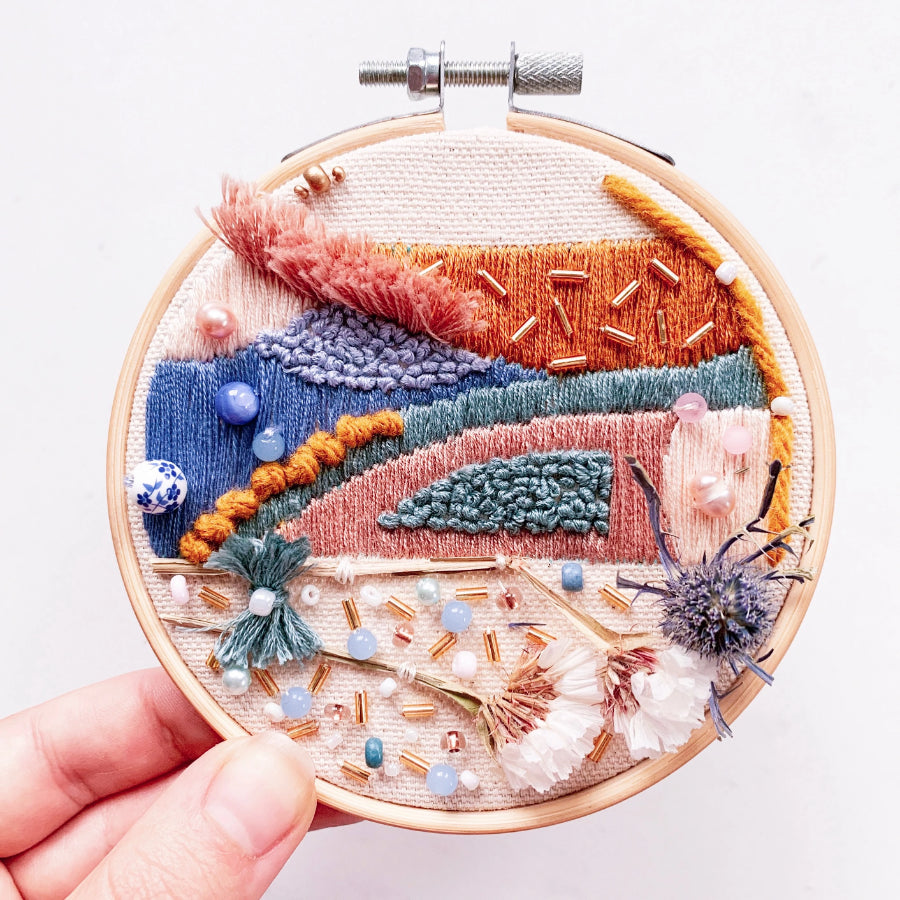 Intro to Modern Embroidery with Meg Rosko
Interested in attending but no sessions available that fit your schedule? Please fill out

 

this form

 

and we will notify you when new sessions are added!
Please note: All class registrations are final; please view our Cancellation Policy and Covid-19 Policy for more information. By registering for this workshop, you are agreeing to abide by these policies. Thank you for supporting our small business!  
WORKSHOP DESCRIPTION
We're excited to welcome visiting instructor Meg Rosko, the embroidery master behind Nutmeg & Honeybee! 
Whether you're a beginner just starting out, or an experienced stitcher looking to learn some new techniques, join us on March 8th to dive into the world of modern embroidery art!
In this workshop you will:
Get hands-on guidance from Meg on creating a color story and understanding different textures 

Learn shading stitches, back stitches, french knots, and turkey stitches

Integrate various materials such as threads, yarn, rope, and beads
Gain and understanding of modern embroidery basics
Your registration fee includes all required materials, including a tin trinket case, embroidery scissors, 3 different sized embroidery needles, a fabric pen, needle threader, embroidery hoop with fabric, threads, yarns, rope and beads-- which will all go home with you so you can continue to work on your piece! 
Please note: Due to the nature of this one-time-only event, all registrations for this special guest hosted workshop are final; no refunds or credits will be given for cancellations. Please view our policy for more information. 
Class Details
Date & Time: select above
Class Length: 3 hours
Location: Brooklyn Craft Company, 165 Greenpoint Avenue (here's where we're located)
Cost: $150 includes supply bundle that's yours to take home!
All class registrations are final; please view our policy for more information.
MEET YOUR INSTRUCTOR 

Hi, I'm Meg! I started getting into modern embroidery about 2 years ago and absolutely fell in love with the textures and colors I was able to play around with on a hoop. This past December, I started teaching Modern Embroidery Workshops because I felt a need to share and connect with other crafty humans in a physical space. Before getting into embroidery, I started my own baking blog which really allowed me to explore and express my creativity. Nutmeg & Honeybee is a creative community dedicated to feeding my curiosity and how I can play with different mediums to satiate those cravings. I am excited to meet you at the workshop and learn more about your creative journey!