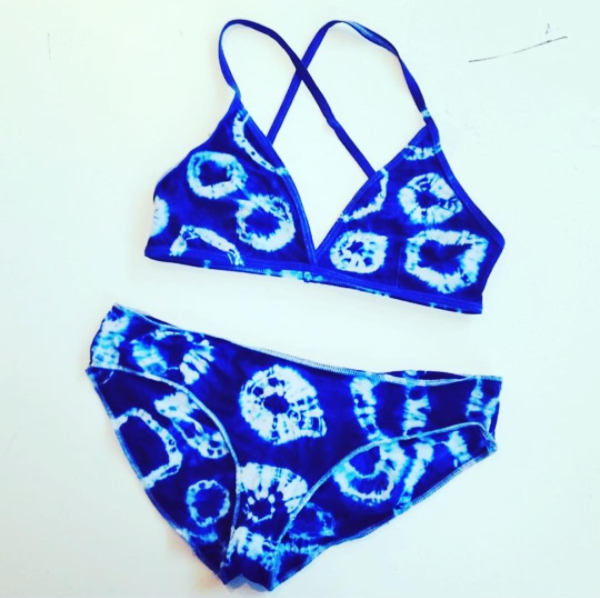 Friday Dye-day: BYO Shibori!
Interested in attending but no sessions available that fit your schedule? Please fill out

 

this form

 

and we will notify you when new sessions are added!
Please note: All class registrations are final; please view our Cancellation Policy and Covid-19 Policy for more information. By registering for this workshop, you are agreeing to abide by these policies. Thank you for supporting our small business!  
WORKSHOP DESCRIPTION
Calling all indigo and shibori fanatics!
On Friday, August 18, we're opening up our studio for an evening of dye-your-own indigo magic! If you've taken our Shibori Dyeing workshop and have been eager to continue with the craft, but just don't have the space in your NYC apartment, this has your name all over it!
During open studio hours, we'll provide:
Vats of pre-mixing indigo dye
Plexiglass, wood cutouts, and PVC pipe resists
Rubber bands + twine for binding
Latex gloves
Please note this session is a self-guided open dye session, not a class. Shibori experience is required.
Class Details
Date & Time: select date above
Workshop Length: 3 hours
Location: Brooklyn Craft Company's NEW LOCATION, 165 Greenpoint Avenue (here's where we're located)
Cost: $35 includes dyes, open studio access, and materials listed above; students should bring their own small items to dye, such as t-shirts, tote bags, pillow cases, etc. Students must have attended a Shibori workshop at Brooklyn Craft Company or have equivalent experience.
All class registrations are final; please view our policy for more information.