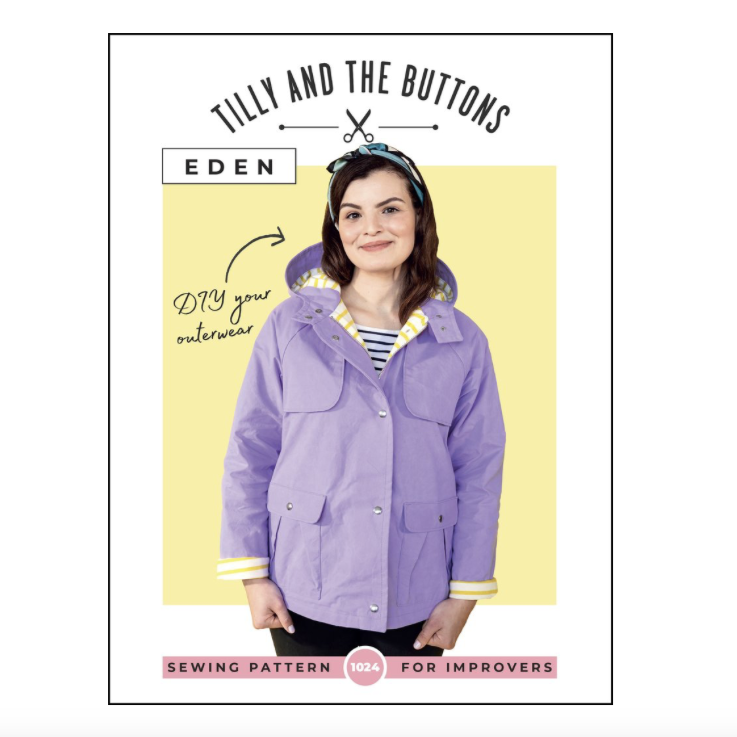 PRODUCT DESCRIPTION
Make your own playful and practical raincoat or cosy duffle to shelter from the elements. Fully lined, Eden has raglan sleeves and thoughtful details like a high neck hood to keep out the wind, practical pockets and a hanging loop.
Choose from hip or long lengths, snaps or toggle fastenings with optional zip, two pocket styles and optional storm flaps. Whether on a weekend walk, at a festival or doing the school run, you can wear your DIY outerwear with pride!
Eden includes jargon-busting instructions, helpful sewing tips, and colour photos showing you each step – making it easy for you to create gorgeous clothes you can be proud to say you made yourself.
PRINTED PATTERN - You'll receive a gorgeous printed package in the post containing full-scale pattern sheets and a colour instruction booklet. 
SKILL LEVEL - Improvers
FABRIC SUGGESTIONS - Medium- to heavy-weight woven fabrics such as wool coating, cotton drill, waxed canvas, Gore-Tex, ripstop, PUL and cotton laminate. For the lining, try viscose, acetate, polyester or cotton lawn, or even low stretch jersey for a casual anorak lining.
SUPPLIES
Fabric –

 

Jacket vn: Sizes 1-3: 3m (3yd) x 150cm (60in) wide OR 3.3m (3yd) x 115cm (45in) wide; Sizes 4-8: 3.3m (3yd) x 150cm (60in) wide OR 4.3m (4¾yd) x 115cm (45in) wide 

Coat vn: Sizes 1-3: 3.2m (3½yd) x 150cm (60in) OR 3.6m (4yd) x 115cm (45in); Sizes 4-8: 3.4m (3¾yd) x 150cm (60in) OR 4.6m (5yd) x 115cm (45in)  Lining – Jacket vn: Sizes 1-3: 1.5m (1¾yd) x 150cm (60in) OR 2.1m (2yd) x 115cm (45in) wide; Sizes 4-8: 2m (2¼yd) x 150cm (60in) OR 2.7m (3yd) x 115cm (45in) wide  Coat vn: Sizes 1-3: 1.7m (1yd) x 150cm (60in) wide OR 2.3m (2½yd) x 115cm (45in) Sizes 4-8: 2.2m (2½yd) x 150cm (60in) OR 3m (3yd) x 115cm (45in) wide 

Matching thread 1.4m (1yd) interfacing (similar weight to your fabric)
6-8 x 15mm (in) visible or hidden press-on or sew-on snaps. Optional: 2 extra snaps for pockets
Optional: 3 x ready-made toggle fastenings or toggle buttons and cord
Optional: Open-end zip 50-53cm (20-21in) for jacket version, 58-72cm (23-28in) for coat version
Sewing machine, basic tools, incl zip foot
SIZES (BODY MEASUREMENTS)
| | | | |
| --- | --- | --- | --- |
| PATTERN SIZE | BUST | WAIST | HIP |
| 1 (UK 6 / US 2 / EUR 34) | 76cm (30in) | 61cm (24in) | 84cm (33in) |
| 2 (UK 8 / US 4 / EUR 36) | 81cm (32in) | 66cm (26in) | 89cm (35in) |
| 3 (UK 10 / US 6 / EUR 38) | 86.5cm (34in) | 71cm (28in) | 94cm (37in) |
| 4 (UK 12 / US 8 / EUR 40) | 91.5cm (36in) | 76cm (30in) | 99cm (39in) |
| 5 (UK 14 / US 10 / EUR 42) | 96.5cm (38in) | 81cm (32in) | 104cm (41in) |
| 6 (UK 16 / US 12 / EUR 44) | 101.5cm (40in) | 86.5cm (34in) | 109cm (43in) |
| 7 (UK 18 / US 14 / EUR 46) | 106.5cm (42in) | 91.5cm (36in) | 114cm (45in) |
| 8 (UK 20 / US 16 / EUR 48) | 112cm (44in) | 96.5cm (38in) | 119.5cm (47in) |