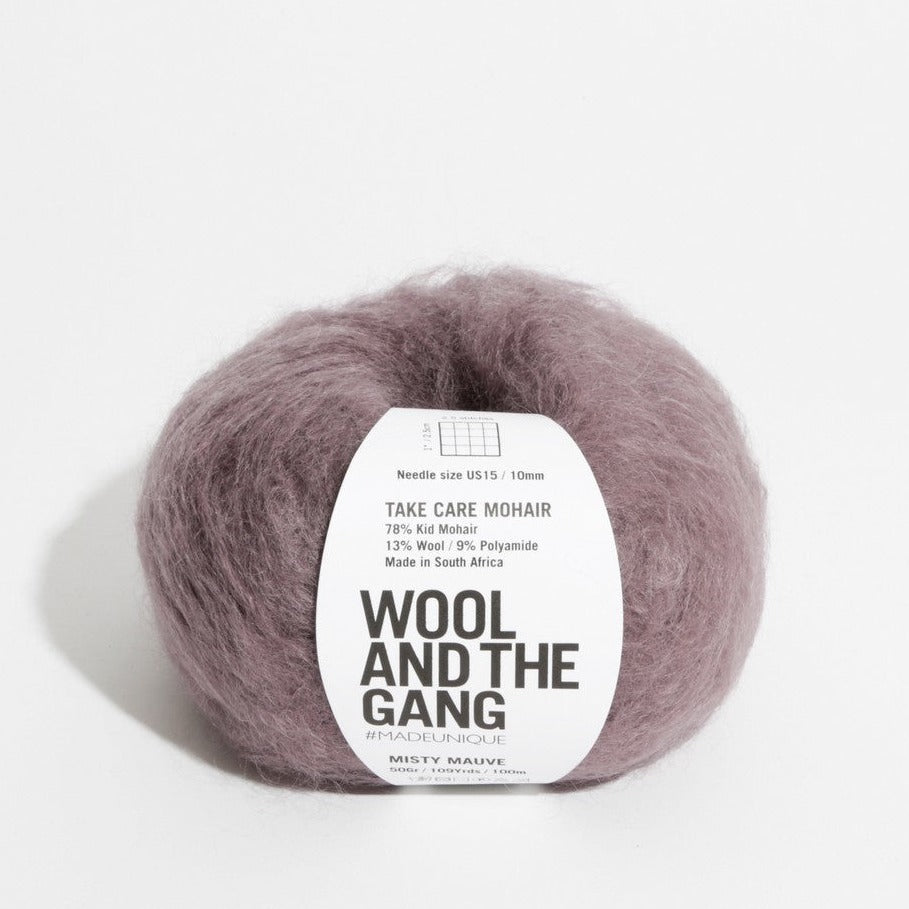 PRODUCT DESCRIPTION

Take Care Mohair is a fluffy so-and-so. It's going to keep you snug in winter but breezy in summer – hurrah! Wool & the Gang's mohair yarn comes from a part of South Africa where there's a 200-year tradition of goat farming and a genuine commitment to sustainability.
WHAT'S IT LIKE TO KNIT WITH?
Lofty, open and flowy, Take Care Mohair is lacy and open on a larger needle, denser on a smaller needle. This yarn knits up quickly and is super soft! We recommend using 6.5mm - 15mm knitting needles or a 8mm to 12mm crochet hook.
WHAT CAN I MAKE?
Take Care Mohair is great for layering pieces - sweaters, cardigans, hats and scarves are our favorite things to make with this yarn. Using only 1 ball of Take Care Mohair you can make a hat or a cowl - our 50g balls are twice the weight of most mohair on the market.
WORKS WELL WITH...
Garter Stitch, Stocking Stitch, Mock Fisherman's Rib, double wrap stitch
Details
78% Kid Mohair, 13% Wool, 9% Polymaide
Weight: 50 g; Aran/ Worsted
Approx. Yardage: 109 yds / 100 m
Knitting Needle Size: US 10.5 - US 19/ 6.5mm - 15 mm
Knitting Gauge: 13.5 - 18 stitches = 4" (10 cm)
Suggested Care
Hand wash cold. Lay flat to dry.