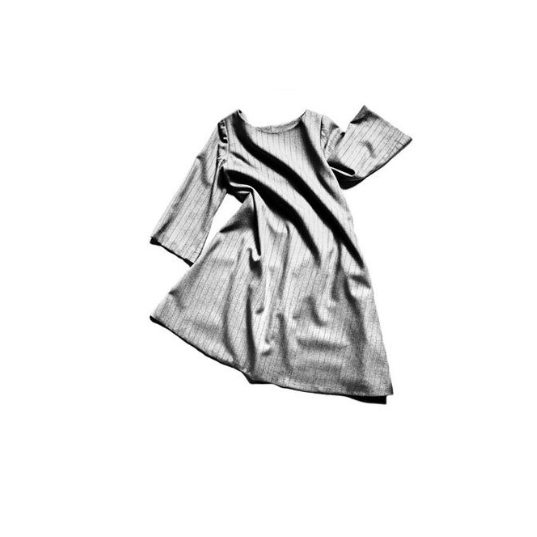 PRODUCT DESCRIPTION

This classic dress is suitable for all seasons in a range of fabrics!
You have the option of making this 3/4 sleeved, sleeveless and short sleeved, all with a button back opening.
Skill level: Beginner
This is a multi-size paper pattern in an envelope, including sizes 8 – 18. Seam allowances are included in the pattern at 1.5cm, unless otherwise stated.
You will need 0.35M of fusible interfacing for the sleeveless version and 0.25M of fusible interfacing for the sleeved version both views.
For the dress you will need 10 x buttons 20 – 23mm. For the top you will need 6 buttons. 
Sleeveless Dress



| | Size 8 | Size 10 – 12 | Size 14 – 18 |
| --- | --- | --- | --- |
| 110 – 120cm wide, with nap | 2.5M | 2.65M | 2.65M* |
| 140cm – 150cm wide, with nap | 2.15M | 2.3M | 2.4M |
| 110 – 120cm wide, without nap | 2.15M | 2.35M | 2.4M* |
| 140 – 150cm wide, without nap | 1.65M | 1.85M | 2.15M |
| Fusible Interfacing | 0.2M | 0.2M | 0.2M |
| *110 wide is not suitable for size 18 | | | |
Sleeveless Dress with Back Opening 



| | Size 8 | Size 10 – 12 | Size 14 – 18 |
| --- | --- | --- | --- |
| 110 – 120cm wide, with or without nap | 3M | 3.15M | 3.25M* |
| 140cm wide, with or without nap | 2.4M | 2.45M | 2.6M |
| Fusible Interfacing (based on 90cm wide) | 1.4 | 1.4 | 1.4 |
| *110 wide is not suitable for size 18 | | | |
Dress with Short Sleeves



| | Size 8 | Size 10 – 12 | Size 14 – 18 |
| --- | --- | --- | --- |
| 110 – 120cm wide, with nap | 2.6M | 2.65M | 2.75M* |
| 140cm – 150cm wide, with nap | 2.15M | 2.35M | 2.5M |
| 110 – 120cm wide, without nap | 2.1M | 2.25M | 2.4M |
| 140 – 150cm wide, without nap | 1.6M | 1.8M | 2.1M |
| Fusible Interfacing | 0.2M | 0.2M | 0.2M |
| *110 wide is not suitable for size 18 | | | |
Dress with Short Sleeves and Back Opening



| | Size 8 | Size 10 – 12 | Size 14 – 18 |
| --- | --- | --- | --- |
| 110 – 120cm wide, with nap | 3M | 3.15M | 3.25M* |
| 110 – 120cm wide, without nap | 2.95M | 2.85M | 3.05M |
| 140 – 150cm wide, with nap | 2.5M | 2.6M | 3M |
| 140 – 150cm wide, without nap | 2.35M | 2.35M | 2.65M |
| Fusible Interfacing (based on 90cms wide) | 1.25M | 1.25M | 1.25M |
| *110 wide is not suitable for size 18 | | | |
Dress with Long Sleeves



| | Size 8 | Size 10 – 12 | Size 14 – 18 |
| --- | --- | --- | --- |
| 110 – 120cm wide, with nap | 2.9M | 2.95M | 3M |
| 140cm – 150cm wide, with nap | 2.3M | 2.65M | 2.8M |
| 110 – 120cm wide, without nap | 2.45M | 2.55M | 2.75M* |
| 140 – 150cm wide, without nap | 1.9M | 2.1M | 2.35M |
| Fusible Interfacing | 0.2M | 0.2M | 0.2M |
| *110 wide is not suitable for size 18 | | | |
Dress with Long Sleeves and Back Opening



| | Size 8 | Size 10 – 12 | Size 14 – 18 |
| --- | --- | --- | --- |
| 110 – 120cm wide, with nap | 3.25M | 3.3M | 3.3M* |
| 110 – 120cm wide, without nap | 3.15M | 3.3M | 3.3M* |
| 140 – 150cm wide, with nap | 2.75M | 2.95M | 3.2M |
| 140 – 150cm wide, without nap | 2.4M | 2.45M | 2.7M |
| Fusible Interfacing (based on 90cms wide) | 1.25M | 1.25M | 1.25M |
| *110 wide is not suitable for size 18 | | | |
Finished Measurements



| | Size 8 | Size 10 | Size 12 | Size 14 | Size 16 | Size 18 |
| --- | --- | --- | --- | --- | --- | --- |
| Bust | 97cm | 102cm | 107cm | 112cm | 117cm | 122cm |
| Length | 102cm | 102.7cm | 103.4cm | 104.1cm | 104.8cm | 105.5cm |
| Short Sleeve Length | 21.5cm | 22cm | 22.5cm | 23cm | 23.5cm | 24cm |
| Long Sleeve Length | 47cm | 47.8cm | 48.6cm | 49.4cm | 50.2cm | 51cm |
UK Sizing



| | Size 8 | Size 10 | Size 12 | Size 14 | Size 16 | Size 18 |
| --- | --- | --- | --- | --- | --- | --- |
| Bust | 82cm/32.25″ | 86cm/33.75″ | 91cm/35.75″ | 96cm/37.75″ | 100cm/39.25″ | 106cm/41.75″ |
| Waist | 65cm/25.5″ | 69cm/27″ | 74cm/29″ | 79cm/31″ | 84cm/33″ | 89cm/35″ |
| Hips | 90cm/35.5″ | 94cm/37″ | 99cm/38.75″ | 104cm/41″ | 109cm/43″ | 114cm/44″ |