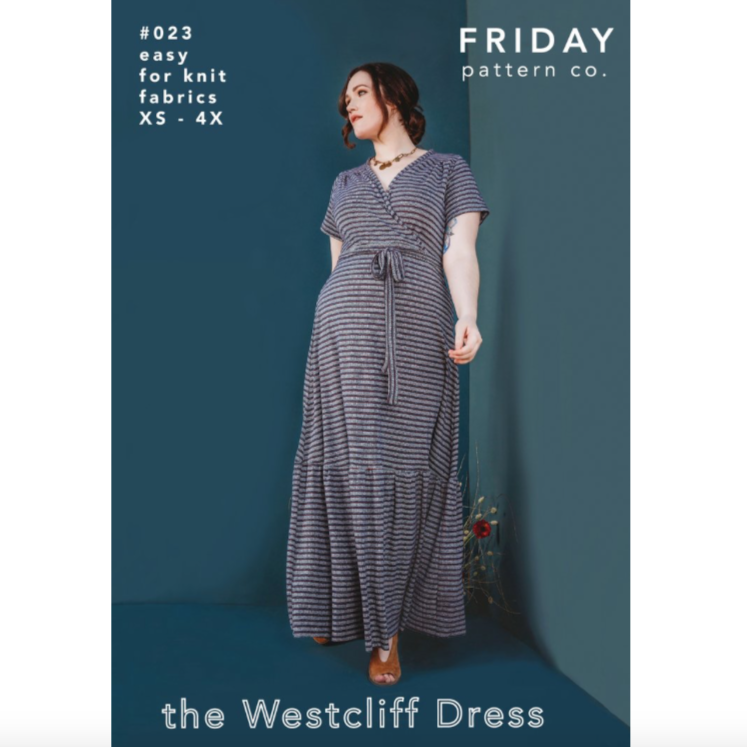 The Westcliff Dress Pattern
PRODUCT DESCRIPTION
The Westcliff Dress is an easy to sew dress for knit fabrics. It features a wrap front with full coverage and a neckline that won't gape! There is an optional lower tier that makes this dress a maxi. The pattern also includes a tutorial on how to turn this dress into a cute cropped top.
Notions:
Matching Thread

Stretch machine needle




Safety pin

Optional: clear elastic for stabilizing shoulder and yoke seams
Fabric requirements: 
Perfect for knit fabrics of all kinds. You need at least 25% stretch. If you choose a knit with more body, like a ponte, it will have a more structured modern look. If you sew it in a drapier knit, like a rayon jersey, it will have a more romantic look. 
MAXI DRESS (W/ LOWER TIER):
XS - M // 45" wide fabric // 3 2/3 yards (3.4 metres)
XS - M // 54 - 60" wide fabric // 2 7/8 yards (2.6 metres)
L - XXL // 45" wide fabric // 4 1/2 yards (4.1 metres)
L - XXL // 54 - 60" wide fabric // 3 1/3 yards (3 metres)
1X - 4X // 45" wide fabric // 5 5/8 yards (5.1 metres)
1X -4X // 54 - 60" wide fabric // 4 yards (3.7 metres)
KNEE LENGTH DRESS (WITHOUT LOWER TIER):
XS - M // 45" wide fabric // 2 5/8 yards (2.4 metres)
XS - M // 54 - 60" wide fabric // 2 1/4 yards (2.1 metres)
L - XXL // 45" wide fabric // 3 yards (2.7 metres)
L - XXL // 54 - 60" wide fabric // 2 1/2 yards (2.3 metres)
1X - 4X // 45" wide fabric // 3 5/8 yards (3.3 metres)
1X -4X // 54 - 60" wide fabric // 3 yards (2.7 metres)