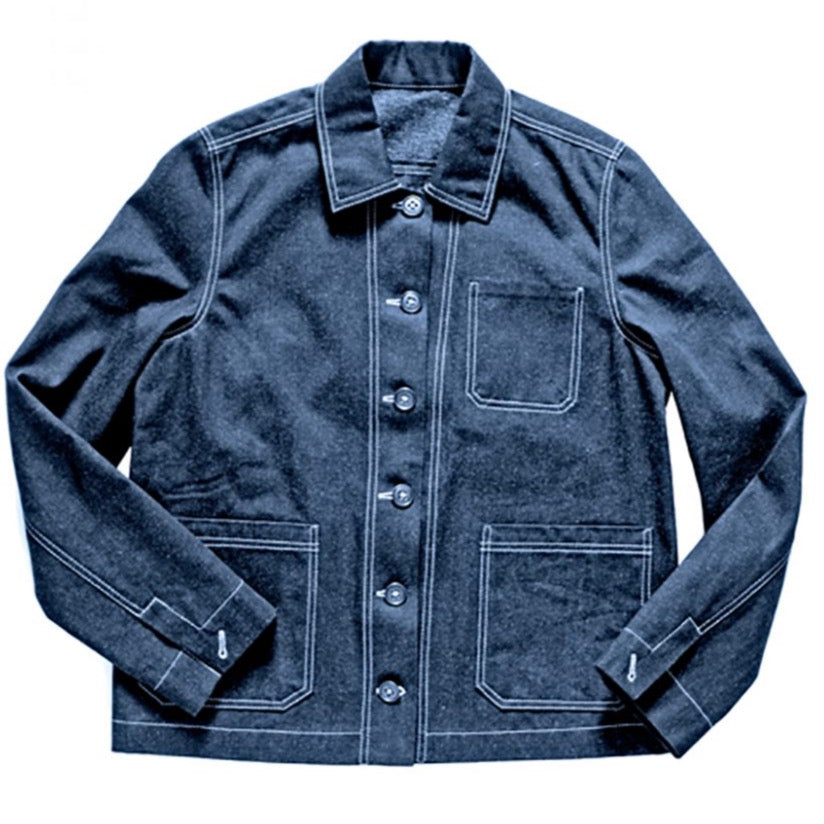 PRODUCT DESCRIPTION
The Ottoline is a boxy workwear jacket with cuff and side seam splits and inside pocket. 
Skill level: Experienced; Intermediate if choosing to omit the slits on the hip or sleeves.
This is a multi-size paper pattern in an envelope, including UK sizes 6 – 18. 1.5cm seam allowance is included in the pattern, unless otherwise stated.
We recommend using 8 – 12.5oz non stretch denim, medium weight cotton drill or canvas, dry oilskin, linen and corduroy.
You will also need:
Matching thread.
5 x buttons approx 22mm (7 if you are doing buttons at the cuff)
Contrast top stitch thread optional.
FABRIC REQUIREMENTS: 



| | Size 6 | Size 8 – 12 | Size 14 – 18 |
| --- | --- | --- | --- |
| 83cm wide, without nap | 2.80M | 2.90M | 3.25M |
| 120cm wide without nap | 1.90M | 2.10M | 2.15M |
| 140cm wide without nap | 1.70M | 1.90M | 2.00M |
| 150cm wide without nap | 1.70M | 1.75M | 1.90M |
FINISHED MEASUREMENTS



| | Size 6 | Size 8 | Size 10 | Size 12 | Size 14 | Size 16 | Size 18 |
| --- | --- | --- | --- | --- | --- | --- | --- |
| Bust | 98cm | 102cm | 106cm | 111cm | 116cm | 121cm | 126cm |
| Length from top of shoulder | 63cm | 63.5cm | 64cm | 64.5cm | 65cm | 65.5cm | 66cm |
| Sleeve Length | 61cm | 61.5cm | 62cm | 62.5cm | 63cm | 63.5cm | 64cm |
UK SIZING



| | Size 6 | Size 8 | Size 10 | Size 12 | Size 14 | Size 16 | Size 18 |
| --- | --- | --- | --- | --- | --- | --- | --- |
| Waist | 61cm/24″ | 65cm/25.5″ | 69cm/27″ | 74cm/29″ | 79cm/31″ | 84cm/33″ | 89cm/35″ |
| Hips | 86cm/34″ | 90cm/35.5″ | 94cm/37″ | 99cm/38.75″ | 104cm/41″ | 109cm/43″ | 114cm/44″ |
| Bust | 78cm/30.75″ | 82cm/32.25″ | 86cm/33.75″ | 91cm/35.75″ | 96cm/37.75″ | 100cm/39.25″ | 106cm/41.75″ |