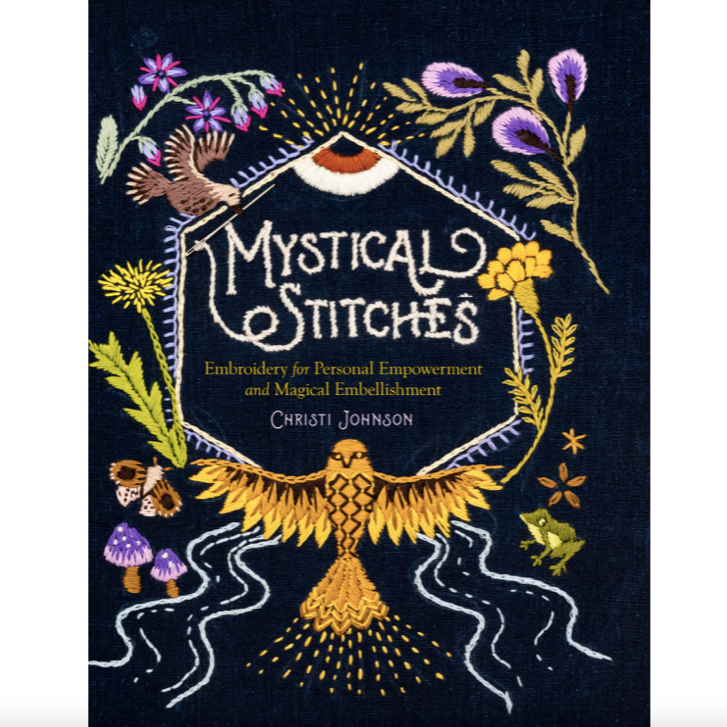 Mystical Stitches: Embroidery for Personal Empowerment and Magical Embellishment
PRODUCT DESCRIPTION
This gorgeous embroidery book features nearly 200 original designs for symbols inspired by a colorful folk art aesthetic and infused with metaphysical meaning. How-to instructions allow readers to combine and stitch each symbol to create unique embroidered objects of personal significance.

Hand embroidery can be a joyous respite from busy daily life. It is an exploration of material, an invitation to slow down, and it allows time for contemplation. Mystical Stitches combines this beloved and accessible craft with a spiritual element, introducing nearly 200 original designs for different symbols readers can use to create personal icons to wear or embellish items in the home. Christi Johnson offers patterns inspired by botanicals, animals, numbers, the cosmos, earth elements, and mythological icons for novice or well-practiced crafters to combine into talismans with personal meaning. Johnson's folk art style is vibrant and unintimidating and provides a framework for bringing spiritual elements into physical form. In addition to basic techniques, an overview of material options, and an illustrated encyclopedia of stitches, the extensive treasury of symbols is lavishly photographed in hand-stitched, full-color spreads that will inspire readers to create personalized designs to stitch on clothes, hang on the wall, place on an altar, carry with them, or display in a place of prominence.

Embroidery is trending. Creating colorful designs with needle and thread or yarn is the latest fiber craft to gain renewed popularity. Embroidery is inexpensive, accessible to crafters of all levels, and requires no special equipment. Christi Johnson's folk art–inspired designs are vibrant, unintimidating, and invite improvisation using a variety of different materials and freestyle approaches.

Features more than 100 original symbolic designs. Inspired by mythology, plants, animals, the cosmos, numbers, and earth elements, Johnson's original motifs speak to a growing interest in integrating the mystical with the personal and infusing craft with meaning. Strong author platform in the worlds of design and craft. Author Christi Johnson is known in the fashion world for her limited-edition boutique fashions and her iconic Free People line, and in the textile arts and embroidery arenas for her kits, booklets, and workshops.