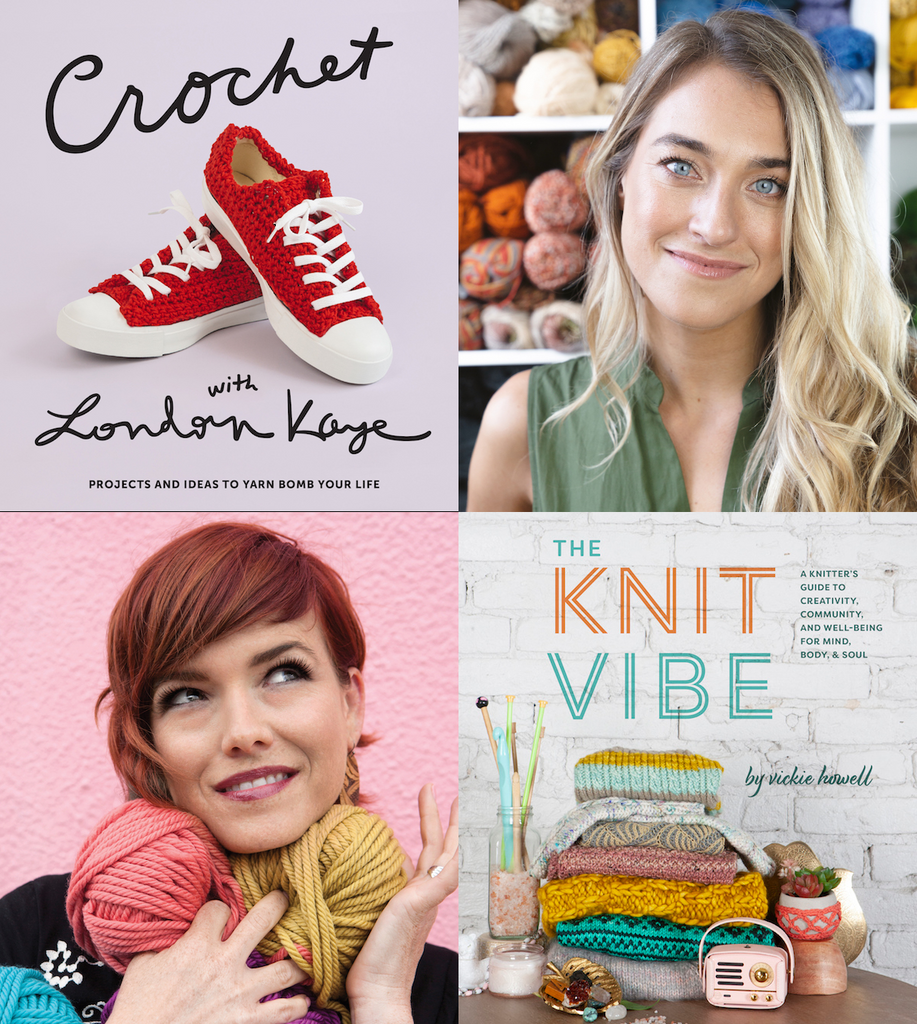 Book Launch Party: The Knit Vibe by Vickie Howell and Crochet with London Kaye! (FREE!)
Interested in attending but no sessions available that fit your schedule? Please fill out this form and we will notify you when new sessions are added!
Please note: All class registrations are final; please view our Cancellation Policy and Covid-19 Policy for more information. By registering for this workshop, you are agreeing to abide by these policies. Thank you for supporting our small business! 
EVENT DESCRIPTION
Join us for a free event to celebrate the launch of TWO new books: The Knit Vibe by Vickie Howell, and Crochet with London Kaye ( Abrams, 2019). Come meet the authors and get crafty with a free make-and-take project! 
Both authors will be signing books during the party--bring your own copy or buy one at the event at a 10% discount!
ABOUT THE BOOKS:
The Knit Vibe: A Knitter's Guide to Creativity, Community, and Well-being for the Mind, Body & Soul
A knitting adventure with projects, patterns, rituals, yoga, creative inspiration, numerology, knitting experts, astrology, community, and more!
What if we look at our lives through the lens of the conduit that streams our creativity? In her latest book (October 2019) The Knit Vibe: A Knitter's Guide to Creativity, Community, and Well-Being for Mind, Body & Soul, author Vickie Howell pens a love letter to yarn craft. In it, she explores how for those in the knitting and crochet community, the act of creating with fiber is the through-line of how we choose to navigate life.
Crochet with London Kaye: Project and Ideas to Yarn Bomb Your Life
Full of tips and techniques on crochet, types of yarn bombing, and at-home projects for the beginner and advanced crocheter, Crochet with London Kaye promises to engage and inspire crafty readers around the world. With beautiful photos of her most admired street art pieces, yarn artist London Kaye brings the lesser-known world of yarn bombing into focus, with the added bonus of more than a dozen of her most sought-after patterns: crochet covers for your sneakers, a vibrant oral case for that blue IKEA bag everyone has at home, or her signature eyeball that you can personalize and add to your own bag, jacket, or attire of your choosing. Her projects are unlike anything else you'll find today, and this book is the only place you can find them. Yarn has always been a popular medium, but in the hands of artists like Kaye, it becomes a vibrant new form for expression and personal creativity.  
This event is free, but please RSVP by clicking "add to cart" above. You will be taken through the checkout process to complete your reservation, but you will not be charged!
We look forward to seeing you! 
DATE: Wednesday, October 16, 2019
TIME: 6:30-8:30pm
LOCATION: Brooklyn Craft Company (here's where we're located)
COST: Free!
ABOUT THE AUTHORS:
Vickie Howell is the creator/host of The Webby Awards Honoree and Tellys People Choice Award Winner, The Knit Show with Vickie Howell, the first studio-quality, community funded, internationally accessible, episodic knitting series. To date the show's channel has over 350,000 views, and viewers watching from 19+ different countries.
Vickie is well-known as the host of TV shows including DIY Network & HGTV series, Knitty Gritty, host and co-executive producer of Telly Award-winning PBS show, Knitting Daily with Vickie Howell. She is also an internationally recognized blogger, speaker, CreativeLive and Brit+Co. instructor, social strategist, and author. Vickie has produced thousands of hours of programming through a variety of channels including her podcast, CRAFT*ish, and the longest-running Facebook Live series in the genre, Ask Me Monday. Learn more about Vickie here!
London Kaye is a street artist based in Los Angeles, California. Her unique use of crochet to create art pieces made entirely of yarn has brought smiles to communities around the world and has allowed London to create a business out of something handmade.
Born in Los Angeles, California, London received her BFA in dance from New York University's Tisch School of the Arts. After graduating London realized that her love for crochet, art, being spontaneous, and bring unexpected joy came together harmoniously when she began using crochet to interact with her environment and surrounding community. London began installing art daily on the street, quickly leading to her work being easily recognized by her community's people and businesses. Learn more about London here!